I have started many an entry professing my love for the ingredient of the week. This post is the antithesis of such musings. I hate blueberries. I love the color, and I don't even mind the flavor. I just hate the texture. It's squishy and gross and they literally make me gag.
I was at the store on Saturday, shopping with inspired glee as I normally do, and I found pints of organic blueberries ON SALE. Before I could chastize myself for not making a list and sticking to it, they were in my cart. I thought I'd make blueberry muffins or something. My mother loves blueberries and my dad will eat anything.
Then I was struck with the idea to make a cake or quickbread and a fruit compote to go with it. Spring is arriving faster than it ever has, and it seemed like a lighter, spring-y dessert. So I made it. The recipe is pretty much as is, except I nixed the lemon zest in both dishes.
I thought about halving the recipe, only making one cake, but trust me, you'll need that second cake. I promise you. And surprisingly, I loved the compote, but I still hate blueberries.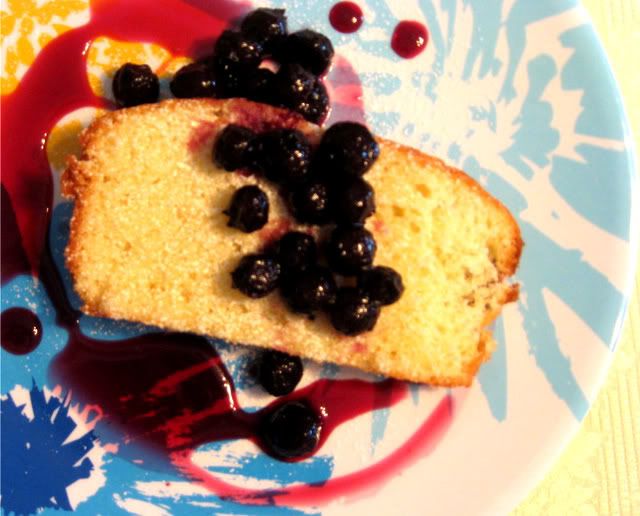 Lemon-Scented Cake
by Ina Garten
Ingredients
1/2 pound (2 sticks) unsalted butter, at room temperature
2 1/2 cups granulated sugar, divided
4 extra-large eggs
3 cups flour
1/2 teaspoon baking powder
1/2 teaspoon baking soda
1 teaspoon salt
¼ cup lemon juice
3/4 cup buttermilk
1 teaspoon pure vanilla extract
Directions
Preheat the oven to 350 degrees F. Grease and flour 2 (8 1/2 by 4 1/4 by 2 1/2-inch) loaf pans. You may also line the bottom with parchment paper, if desired.
Cream the butter and 2 cups granulated sugar in the bowl of an electric mixer fitted with the paddle attachment, until light and fluffy, about 5 minutes. With the mixer on medium speed, add the eggs, 1 at a time.
Sift together the flour, baking powder, baking soda, and salt in a bowl. In another bowl, combine lemon juice, the buttermilk, and vanilla. Add the flour and buttermilk mixtures alternately to the batter, beginning and ending with the flour. Divide the batter evenly between the pans, smooth the tops, and bake for 45 minutes to 1 hour, until a cake tester comes out clean.
Let cake cool.
Blueberry Compote
Lillian Chou
1/2 cup water
1/2 cup sugar
2 cups blueberries (10 oz)
1 1/2 tablespoons fresh lemon juice
Boil water and sugar in a 1-quart heavy saucepan, uncovered, 5 minutes. Stir in blueberries and simmer, stirring occasionally, until blueberries begin to burst, 3 to 5 minutes. Remove from heat and stir in lemon juice. Serve warm or at room temperature.
NOTE: Compote will be pretty thin, but still insanely flavorful!