There are a lot of things people will do for family, take a bullet, flip a car, walk through fire. My personal, heroic sacrifice was to make barbecued chicken for my mom's Mother's Day present. Barbecued chicken on a rainy, cold Saturday in May.
Honestly, I'd rather walk through fire.
Because I don't like barbecue sauce. It's messy and cloying and the smell of it makes me sick. However, when I started this blog, I did it with the intention to broaden my culinary horizons and even prepare things I loathe. One of my mother's favorite stories to tell is how she revived Christmas dinner in the 80s with a pan of barbecued chicken. So instead of taking her out to breakfast, I started researching barbecue sauces.
I found dozens of recipes with at least 15 ingredients...molasses, brown sugar, weird peppers I have no hope of finding. Then I stumbled upon this recipe by Michael Chiarello. It had rave reviews, and it was distubingly simple. I didn't even have to buy anything. So I started cooking, making my dad taste it. He said it was too sweet and not tangy enough. And I wanted to add all of those funky ingredients. But I didn't. I trusted the recipe, the reviewers and Mr. Chiarello. This sauce is made to be baked. It marries the flavors and it becomes something sweet and bright and amazing. I ate two pieces...and I actually dipped my chicken in it. I'm a believer in the BBQ! But only this one.
After the dinner was done, after my mom ohhed and awwed and yummed, she kissed me on the cheek and declared that this recipe was hers.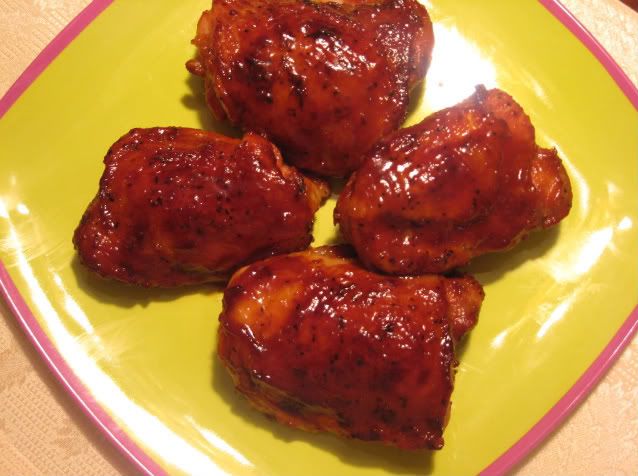 Coffee Barbecue Sauce
Adapted from Michael Chiarello
Sauce
4 tablespoons mashed and minced garlic, can use crushed garlic
4 tablespoons extra-virgin olive oil
1 cup cider vinegar
1/2 cup soy sauce
2 cups ketchup
1 1/3 to 2 cups honey
½ to ¾ cup of stronger coffee or 2 demitasse cups espresso
Mash garlic with the side of a knife and then mince finely to release oils or use crushed, jarred garlic to save prep time and weeks of garlic hands.
Add olive oil to a preheated saucepan over medium heat. Add the garlic and saute until it gets light brown, about 1 minute. Add cider vinegar, soy sauce, ketchup, honey and coffee and whisk to combine. I recommend adding 1 1/3 cup of honey as mixture will be very sweet. The coffee will help curb the sweetness. You can adjust the seasonings with salt and pepper, but it honestly doesn't need it. Bring to a boil and let simmer for 15 to 30 minutes, stirring and tasting ocassionally.
Chicken
2 lbs of chicken thighs or your favorite cut
Salt
Black Pepper
Cumin
Garlic Powder
Cayenne
Paprika
Preheat oven to 375.
Season chicken with the spices on both sides. Preheat a large skillet over medium-high heat. Add enough olive oil to barely cover bottom of pan. When oil is hot, add chicken skin-side down. Brown thighs thoroughly on both sides, about 5 to 7 minutes.
Place chicken on foil-lined baking sheet and bake for 10 to 15 minutes, or until the chicken measures 150 degrees. Pour 2 cups of sauce into a bowl and submerge chicken to coat. Place chicken back onto sheet and cook for 20 more minutes, basting with sauce every 10 minutes. Thighs internal temperature sure measure about 165 to 170 degrees when done.
Let chicken rest for 5 to 10 minutes.
Use the remaining sauce as for dipping or…drinking. It's that good. Freeze the remaining sauce.