*Recipe revised on October 26th.*
So many people I know LOVE chicken wings. You know, those squishy, messy, greasy, spicy little chicken arms that usually more bone than meat. I never got why they were so popular, maybe it's all the alcohol traditionally consumed while eating them. I don't really like them and certainly never crave them. The only time I eat a chicken wing is when I make or bring home a roast chicken. It is the first piece I taste, and that's usually meaty and salty and delicious.
My mother has been admirably working to lose weight for months. She exercises with a determination I can admire—usually while I'm in the kitchen. (Can cooking be considered cardio?) Lately her resolve has been cracking and the fast food cravings are gaining power. Finally, she broke. "I want fried chicken wings. I want Popeye's!" She proclaimed after an hour on the treadmill.
I promised her I'd make her some chicken wings that would settle her craving, but wouldn't negate all of her had work.
So I set out on the 'net, sorted through recipes with glazes and super-spicy sauces and 25 ingredients, and settled on this one with a bit of trial and error on the mix of spices. These wings are baked, not fried, yet the skin is still crispy and the meat is still tender and flavorful. Now, these are chicken wings I'd like to knock back while watching a football game and drinking beer.
And they passed not one, but two tests. First, my mother LOVED them and declared her fast food craving had been satisfied. Second, my father, who puts hot sauce on pancakes, ate these wings without it.
Mission accomplished.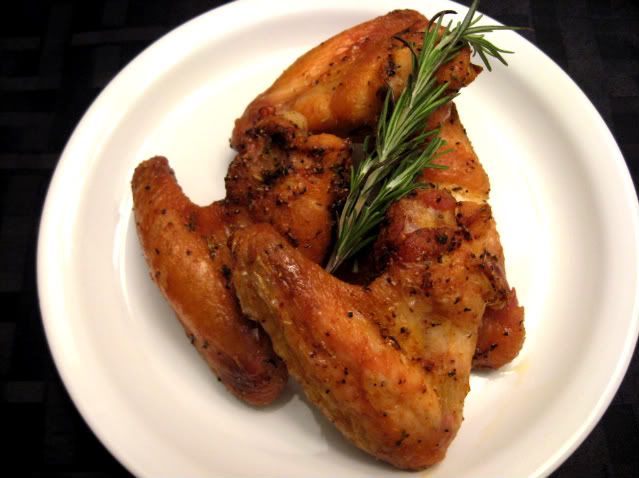 Awesome Rosemary Spiced Chicken Wings
Ingredients
4 to 5 pounds chicken wings
1 tablespoon olive oil plus more for drizzling
1 ½ tablespoons fresh rosemary, finely chopped
1 ½ teaspoons garlic powder
½ teaspoon dried thyme
1 teaspoon black pepper
1 1/2 teaspoons seasoning salt (such as Lawry's)
½ teaspoon ground cumin
¾ teaspoon paprika
½ teaspoon chili powder*
½ teaspoon cayenne*
Salt
Directions
Pre-heat oven to 375 degrees. Line two banking sheets with aluminum foil.
Remove the tips of the chicken wings with kitchen shears or a knife. Clean wings of any stray hairs.
Thoroughly rinse wings and pat dry with paper towels. In a large bowl or large pan, drizzle chicken wings with 1 teaspoon of olive oil and mix with hands until all wings are evenly coated. Add all spices, mixing with hands to make all wings are coated.
Place skin side up in a single layer on baking sheets, allowing a bit of space between each wing. Drizzle a small amount of olive oil over the wings, and rub over the top to distribute. Finally, sprinkle each wing very lightly with salt.
Bake in the oven until wings are a deep golden brown and the skin is crispy, about 45 to 55 minutes. Rotate pans halfway through cooking process so wings will brown evenly.
Serve immediately.
*Measurements of spices and herbs may vary based on the amount of wings being prepared.
*You can make the wings as spicy as you like. I prefer just a little heat. Increase the chili powder and cayenne if you'd like more of a kick.