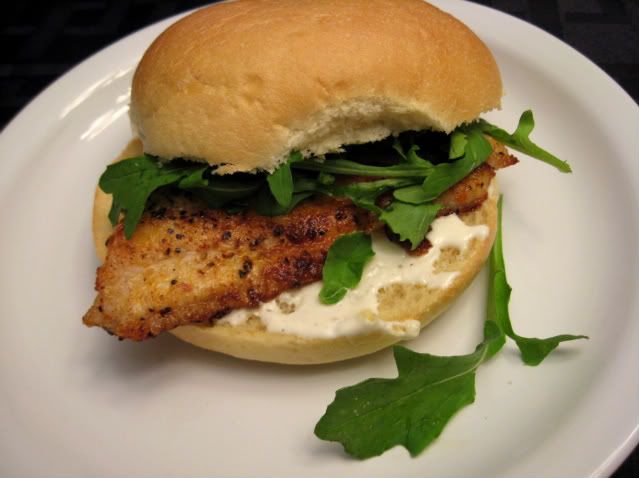 The ball has dropped. You're finding confetti in some very strange places. The champagne is gone. It is a new year! 1/1/11! Time for a new beginning. While I'm not exactly singing about it like Jennifer Hudson on the Weight Watchers commercials (she looks great!!!!), I am starting this New Year, like many of you, with a new outlook on life, food and where I want to be in 2011. And I'd like to be a few pounds lighter, and you know what that means…
Wait. Stop. Don't leave! I'm swear on my new baking sheets that I'm not abandoning the delicious, often decadent things that you and I love. I'm just going to make healthier recipes too, use more vegetables and fruits, maybe even some whole grain. No brussell sprouts (yet) and rice cakes here. Promise!
We'll start with one of my favorite foods EVER: Catfish. I love it the most out of all of the fishes in the sea. Sorry, salmon. I was a picky eater as a child, but I would eat an entire catfish happily.
I'm used to eating catfish breaded in cornmeal and fried with a side of spaghetti or my mom's famous fruit salad. To switch it up, I'd decided to riff on blackened fish and just play with a bunch of spices. The result was a flavorful, healthier sandwich that is ready in 20 minutes or less. It's a great meal to ring in 2011 or any day of the week!
Catfish Sandwiches with Lemon Aioli
2 medium-to-large catfish filets, fresh or thawed
Salt
Pepper
Cumin
Paprika
Garlic Powder
Cayenne
Extra Virgin Olive Oil
1 to ½ cups wild arugula
4 hamburger buns, toasted
Lemon Aioli, recipe as follows
Directions
Rinse fish. Pat dry. Cut in half cross-wise.
Season both sides of fish with all spices. Make sure to be a bit more generous with the paprika and more conservative with the cumin and cayenne, unless you want it spicy.
Heat a cast iron and 1 teaspoon of olive oil in pan over medium heat. When skillet is very hot—but not smoking—add two filet halves. Cook until golden to dark brown on both sides, about 3 to 5 minutes per side.
While fish is cooking, toast buns if desired.
When fish is done, place it on skillet to rest for 1 to 2 minutes. Spread aioli on the bottom bun. Add fish fillet. Add arugula and top bun. Enjoy.
Lemon Aioli
½ cup mayonnaise
2 tablespoons lemon juice
1 teaspoon garlic powder or 1 clove of garlic, minced
Salt, Pepper
Mix mayonnaise, lemon juice and garlic powder together in a bowl. Season with salt and pepper to taste. If possible, chill in fridge to marry flavors.