During my senior year of high school, after years of taking advanced classes and being admitted to college, I decided take a couple fun courses—one of them was a cooking class. While, I don't use calculus or speak French in my daily life, I still make a lot the dishes I learned in that class, especially Creamy Potato Soup. It's also where I learned the basics of cooking and how many things you can make with a roux.
Here in Wisconsin, this winter has been strangely snow-less (at one point, Georgia had more snow than we did. GEORGIA!), but this week the Midwest was finally walloped with an honest-to-goodness
snowicane
that made up for the lack of the fluffy stuff. It involved thunder-snow, lightning, 60 mph winds and 14 inches of snow in less than 12 hours. It was AWESOME, and gave me a perfect reason to make this creamy, velvety, delicious, easy potato soup. It's like a foodie equivalent of your favorite warm sweater. It can be made in less time it takes to dig your car out from a four-foot snowdrift. Even if you're stuck in the house, you probably have everything you need to make it already in your cupboard. The luscious flavor makes it perfect for garnishing, too. My dad adds canned clams and some juice for a quick chowder—I just stick with bacon and cheese.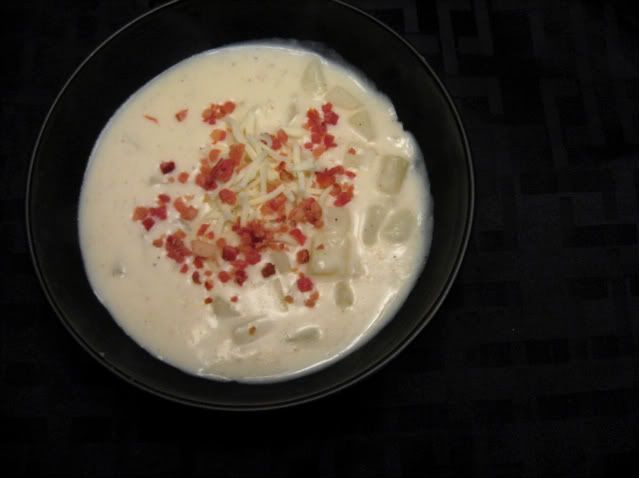 Easy Potato Soup
Ingredients
4 tablespoons butter
4 tablespoons all-purpose flour
3 cups milk, warmed
1 to 1 ½ cups low-sodium chicken broth
3 cups russet potatoes, ½'' dice
Salt
Pepper
Directions
In a large stockpot over medium heat, melt butter. When butter is almost completely melted, but not foaming, add flour and whisk to combine. Cook for roux for 1 minute, seasoning with salt and pepper.
Slowly pour about 1 cup of warmed milk into roux and whisk to combine. Mixture should thicken and smooth out. Stir in the rest of the milk and the chicken broth. Season thoroughly with salt and pepper. Add diced potatoes. Reduce heat to low and simmer, stirring frequently, for about 15-20 minutes, until soup has thickened and potatoes are fork tender, but not mushy. Season to taste. I prefer lots of black pepper. If soup gets too thick, add a bit more chicken broth to thin out.
Serve immediately with a sprinkling of your favorite cheese and chopped bacon.