A Very Foodie Christmas
Let's face it. Every year, Christmas has become increasingly materialized. Stores have started preparing for the holiday before the autumn leaves even fall. It is all about the gifts, gifts, gifts, and not about counting one's blessing and being around family. But even though I'm aware of it, even I get caught up in the scramble for stuff. Just twenty minutes ago, I was upset because I couldn't afford to buy my niece a $50 video game (Really, $50?! After you pay $400 for the gaming system?!! How is that legal?!!!!!).
But I love giving gifts, sometimes more than receiving them. During an agonizing time of unemployment, when I didn't have money for big-shiny-WOW gifts, I made them: chocolate-covered pretzels, granola, truffles, fancy cookies, even skin-softening scrubs. I learned that homemade gifts can be more heartwarming that store-bought, especially in this climate. And that giving homemade cookies to your cookie-loving grandmother will actually elicit cheers of joy. Thus, I will be posting some wonderful ideas for the rapidly approaching holiday or any festive occasion.
On Deck: Kira's Awesome Chocolate Toffee Pretzels
I'm going to warn you now: this recipe is hard. To prepare the following dish, it takes a culinary fortitude I'm not sure a lot of you have. It is something I think even Julia Child or an Iron Chef couldn't master. Wait, come back! I'm kidding, just kidding! With the holidays looming like a tidal wave, no one has time for complicated, involved recipes. People need quick, easy ones they can whip up the night before a work holiday party with the kids or in a few hours before heading to a realitve's house. This is it. It's a bit messy, but that is half the fun, especially when melted chocolate is involved!

These little gems are not an entirely original idea, but they are ingenius, fun, and a wonderful addition to any holiday-themed menu. I started making these last year for a christmas party with my writer's group. They went over so well that I get requests to make them, and the guests actually squabble over the leftovers at the end of the evening. Make a batch of these, add a plastic bag and a festive ribbon and you have yourself a wonderful holiday gift for family, friends and co-workers.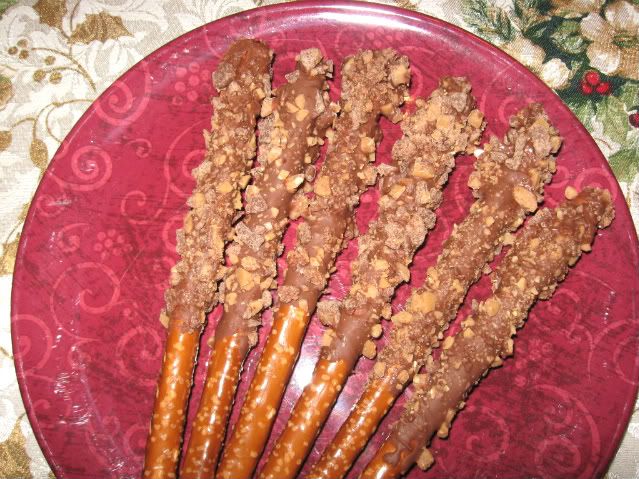 Ingredients
1 Bag Salted Pretzel Rods
2 12oz Bags of Milk Chocolate Chips
2 Bags of Toffee Bits
Parchment Paper
Pour the toffee bits into a shallow pie plate or dish.
Cover a cookie sheet with parchment paper.
In a double-boiler (or a pot of simmering water with a metal bowl on top), add the chocolate chips. Stir with a stapula until chocolate is completely melted. Remove from heat.
Dip pretzels in the chocolate, covering them about two-thirds of the way. Holding the pretzel by the end, and shake off the excess chocolate. Immediately transfer the pretzel to the shallow dish and turn and cover with the toffee. Place onto the parchment paper. Repeat.
If chocolate becomes stiff, reheat the water and return chocolate to a double-boiler.
Note: I usually start with one bag of chocolate and one bag of toffee and melt more as I need it.
When all pretzels are coated, place in the freezer until the chocolate is complete set. Serve within two to four days.
You will probably have some gooey, chocolatey morsels of toffee left over. Oh, the horror!