Time clearly is an ever-evolving thing. It drags. It flies by. It can be lost. It seemed ludicrous that people were preparing for Christmas before Halloween. Then time bended and flat out disappeared and suddenly, Christmas was
four days away
. I had gifts to buy, prepare and wrap. Unfortunately I didn't have the time to prepare the amazing blogging extravaganza I had planned for The Saturday Chef's first Christmas. *sigh* After a snow/ice/rain storm was forecasted as a Christmas disaster, and ended up being completely lackluster, I literally spent Christmas Day in the kitchen, making cookies, braising meats, dipping Oreo truffles, and making granola because our cancelled Christmas plans were suddenly back on.
So, um, here are the next two recipes for Saturday Chef's First Annual Very Foodie Christmas! Better late than never.
I made these delightful little gems for my grandmother, who is unabashedly obsessed with cookies. They are easy to make and will amaze anyone who is lucky enough to receive them. I must confess I'm a little OCD, so I was painstakingly careful not to get any of the pink sugar on the green cookies and green on the pink. It was a little time-consuming, but worth it in the end.
This recipe was adapted from Shelley Wiseman's recipe in Gourmet magazine, 2008. I am not a big fan of lemon zest, so I removed it from both the cookies and the frosting. The cookies are much more versatile without it, and I can't wait to create more fillings to put on them.
For cookies:
1 1/3 cups all-purpose flour
2/3 cup cornstarch
1/4 teaspoon salt
2 sticks unsalted butter, softened
1/2 cup confectioners sugar
1 teaspoon vanilla
Colored sanding sugars
For filling:
1 cup confectioners sugar
1 tablespoon fresh lemon juice
2 tablespoons light corn syrup
1/2 stick unsalted butter, softened
Equipment: a heavy-duty sealable bag
Preheat oven to 350°F with rack in middle.
Line 2 large baking sheets with parchment paper.
Whisk together flour, cornstarch, and salt.
Beat together butter and confectioners sugar with an electric mixer until pale and fluffy, then beat in vanilla. At low speed, mix in flour mixture just until a soft dough forms.
Put sanding sugars in different bowls. Roll a rounded teaspoon of dough into a bowl and drop into colored sugar. I used a small round bowl, and swirled the cookie balls in it. It not only keeps the shape of the cookies, but ensures that they are evenly coated in sugar. Transfer to baking sheet and space about an inch apart.
Bake until tops are slightly cracked but still pale (bottoms will be pale golden), 12 to 15 minutes. Transfer cookies on parchment to a rack to cool completely.
Form and bake more cookies on second baking sheet. I used a different sheet for each sugar color.
Make filling and sandwich cookies:
Beat together all filling ingredients in a large bowl with an electric mixer at medium speed until combined well. Transfer to sealable bag and snip off a corner.
Turn over half of cookies and pipe about 1/2 teaspoon filling on flat side of each. Sandwich with remaining cookies, pressing gently.
*Note: I made these cookies exactly the way the recipe dictated, and they were fantastic. When I make these again (probably on New Year's Eve), however, I will not make them as sandwich cookies because they are hard to eat, and let's face it: they kind of look like little tushies. I plan to simply pipe the filling on the flat side of the cookies, and place frosting-side up so it can set. They will not only be easier to eat, but this will save a lot of time. And you can eat twice as many!
Raisin Almond Granola: The Perfect Stocking Stuffer
My father likes odd food. He loves everything from canned sardines to quinoa. I saw Alton Brown make some granola bars on "Good Eats" and was surprised by how easy it was. I decided to do the same with an Ina Garten recipe and put it in my dad's stocking for Christmas a few years ago with wonderful results.

He liked it more than the sweater I bought him.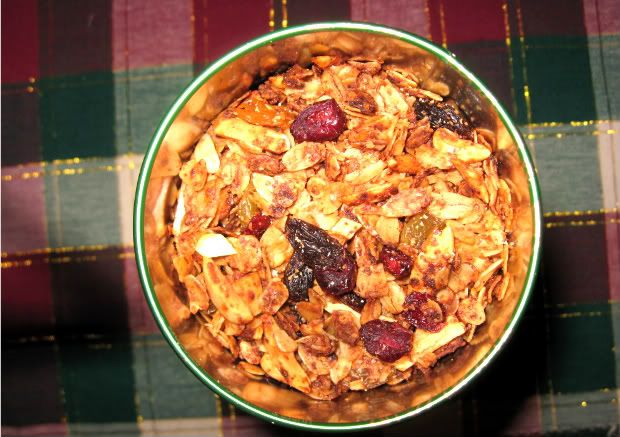 4 cups old-fashioned rolled oats
2 cups sliced or slivered almonds
1 1/2 cups raisins and/or dried cranberries*
½ cup of wheat germ (optional)
1/2 cup vegetable oil
1/3 cup honey
2 teaspoon ground cinnamon
Preheat the oven to 350 degrees F.
Toss the oats, wheat germ and nuts together in a large bowl. Pour the vegetable oil and honey over the mixture. Add the cinnamon, and stir with a wooden spoon until all the oats and nuts are coated. If it looks a bit too dry, add a bit more honey.
Pour onto two sheet pans so the granola will bake evenly. Do not pack it on the pan. Bake, stirring occasionally with a spatula, until the mixture turns an even golden brown, about 25 to 30 minutes.
Remove the granola from the oven, and add the raisins immediately. Stir to incorporate. If you like a bit more sweetness to your granola, stir in a sprinkle of brown sugar after it has cooled.
Store the cooled granola in an airtight container. If you're giving it as a gift, pour into a festive tin and place a bow ontop. Perfect present, and no wrapping!
This can be eaten alone as a snack or with milk for breakfast. It's healthy and very filling.
*Note: I used Sunmaid's raisin and craisin mixture. It has red raisins, golden raisins and dried cranberries, and adds wonderful favor to the granola.