I consider myself a modest person, but it flies out the window when I talk about this pot pie that is literally years in the making. As a meat-and-potatoes girl, I worship pot pies, from the buttery crust down to the slightly salty filling to the hearty potatoes. I have been making them for years. In college, I started buying rotisserie chickens and potatoes and I'd eat various preparations during the week (Ha! Does that explain the chicken obsession?). I'd make chicken and gravy over mashed potatoes, chicken soup, chicken sandwiches and then chicken pot pie. First, from an awesome Bisquick recipe. Then I tried frozen pie crusts. Finally, it morphed into this fantastically simple concoction that is as close to perfection as I will probably ever get without professional culinary intervention.
This version of the pot pie is simple with just a bit more time dedicated to the veggies, specifically the onions. I used to hate onions, but I found that roasting them changes the flavor, makes them sweeter. Honestly, I could eat these like popcorn. And I generally do while I cook the rest of the pie.
Make this meal and people with love you, thank you, and beg you to make another one. That's why this recipe makes two.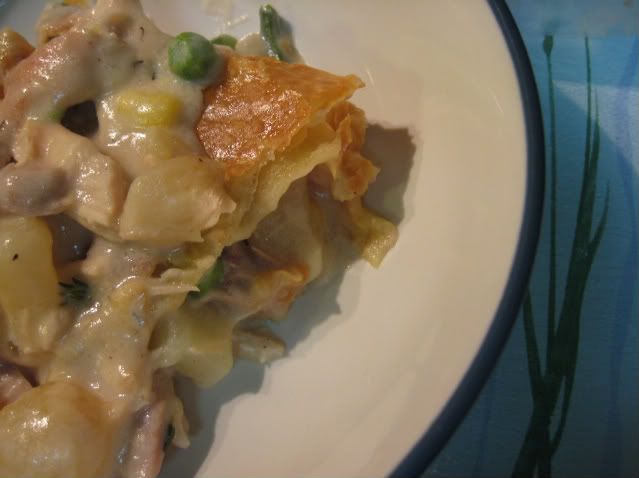 Ingredients
4 tablespoons butter
4 tablespoons flour
2 cups chicken broth
1 cup milk
1 cup half and half
2 to 3 sprigs of thyme leaves
2 cups par-boiled russet potatoes, 1 inch dice
1 lb bag frozen pearl onions
2 to 3 cups shredded rotisserie chicken, skin removed
1 ½ to 2 cups frozen mixed veggies (carrots, peas, green beans)
1 sheet puff pastry, thawed
Salt, Pepper
Eggwash (1 egg, one tablespoon water)
Kosher salt, optional
In a large pot, melt butter over medium heat. Add flour and whisk to combine. Let the roux cook for one to two minutes. Slowly whisk in chicken broth. Mixture will thicken quickly. Stir and season with salt and pepper.
Combine milk and half & half into a microwave-able cup. Heat in microwave until warm. Slowly whisk in warmed milk until liquid is thick and creamy. Season again with salt, pepper and the leaves of thyme sprigs.
Add potatoes and roasted pearl onions (recipe follows). Stir to combine and let sauce cook a bit until it begins to boil. Taste and adjust any seasonings. The sauce will be baked, so leave the seasoning a bit mild.
Finally, add the frozen vegetables (rinse and pat dry if there is a lot of ice) and stir. Remove from heat. Spoon into a pie plate.
Roll out thawed puff pastry sheet lightly just to remove the crease lines and stretch out dough. Carefully place over entire pie plate. Trim the extras off with a knife, making sure to leave some extra dough to accommodate for shrinkage during baking.
Brush the top lightly with egg wash, sprinkle with kosher salt. Poke a few slight in the top of pie to vent steam.
Bake at 400 degrees for 20 to 25 minutes or until crust is golden brown.
Roasted Pearl Onions
Ingredients
1 lb bag frozen pearl onions, thawed
Olive Oil
Salt
Pepper
Dried Thyme
Directions
Rinse and pat dry onions. Pour into single layer on a foil-lined cookie sheet.
Drizzle with olive oil. Sprinkle liberally with salt, pepper and dried thyme.
Toss to coat.
Roast in a 400 degree oven until a golden brown. After 20 minutes, check onions and turn over for more even roasting. It should take about 20 to 30 minutes.