It seems like everyone is on the search for quick dinners that require little time at the stove yet produce bold flavors on the plate, especially in a summer that seems to have no intentions of surrendering to fall. After catching a nasty summer cold that had me out of the kitchen for more than a week, I am more serious about embracing vegetables, fruits and lighter fare.
I discovered a delicious dish that is not only comes together quickly, it is flavorful and rustic. It also combines ingredients I love—chicken, arugula and pasta—with a few that I'm learning to love—mushrooms and tomatoes. Fortunately, with beautifully sweet San Marzano tomatoes and mushrooms chopped fine, I cleaned my plate and went back for seconds.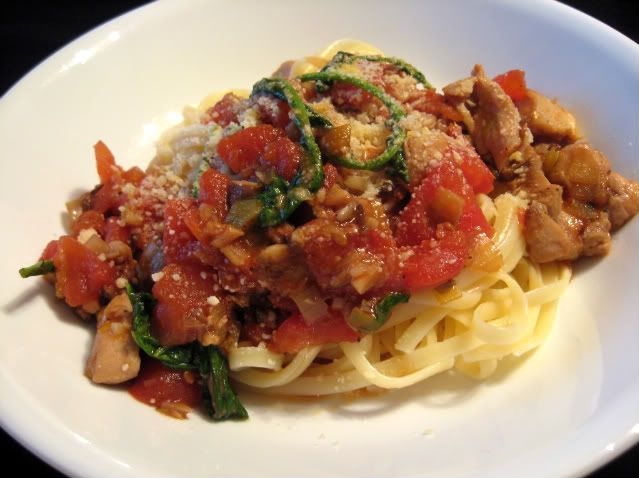 Chicken and Mushroom Ragu
Adapted recipe by Maggie Ruggiero
Ingredients
4 ounces shiitake mushrooms, finely chopped
3 garlic cloves, finely chopped
¼ cup extra-virgin olive oil
1 1/4 pounds skinless boneless chicken thighs, cut into 1-inch pieces
1 medium leek, rinsed and finely chopped
1 teaspoon dried rosemary, divided
3 tablespoons balsamic vinegar
1 (28-ounce) can dice tomatoes in juice, preferably San Marzano
3 cups of baby or wild arugula
½ pound of your favorite pasta, cooked al dente
Directions
Finely chop mushrooms and garlic. Set aside.
Finely chop leek. Set aside.
Cut chicken into 1-inch pieces.
Place a 10-inch skillet over medium-high heat add ¼ cup of olive oil. When oil is hot, add chicken. Season with salt, pepper and ½ of the dried rosemary. Cook, stirring occasionally, until chicken is slightly golden brown, about 5 minutes. Remove from skillet with a slotted spoon into a bowl.
Reduce heat to medium and add onions to pan. Cook, stirring occasionally, until soft, about 3 minutes. Add mushrooms, garlic and remaining rosemary. Season lightly with salt and pepper, stirring often, until vegetables begin to brown, about 4 to 5 minutes.
Add balsamic vinegar and cook until evaporated. Add tomatoes and juice. Use your spoon to break up tomatoes. Reduce heat to low and simmer until mixture thickens slightly, about 15 to 18 minutes.
Finally, add arugula to sauce, stir, and cook until wilted, about 2 minutes.
Serve with over your favorite pasta and a bit of grated parmesan.