I am like an athlete when I cook. I want to be in the paint. In the zone. In the action. While I understand it's all apart of the game, I don't like idle time. I don't want to be benched while the cake cools or the dough rises or the chicken marinates. For this reason, my crockpot has been collecting dust.
When I found the plastic had been punctured on a frozen piece of brisket, I had no choice but to cook it. Only problem? It's August in Wisconsin, and it's 90 degrees with suffocating humidity. The solution came in the form of a twenty-year-old silver and black Rival Crockpot. It could cook the meat wihtout turning the house into a sauna.
Like any braise, I seared the meat to lock in the juices, created a flavorful braising mixture with rough chopped vegetables and herbs and poured it in the crockpot. The little machine more than did its job; it also convinced me that crockpots can be a very value player.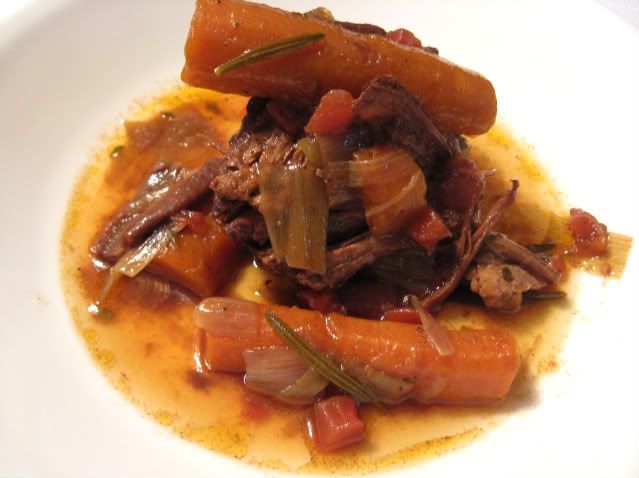 Ingredients
4 to 5 lb brisket, trimmed if necessary
Kosher salt, pepper
Flour
3 to 5 carrots, peeled, halved
1 large leek, rinsed, rough chopped
½ yellow onion, rough chopped
2 to 3 sprigs fresh rosemary
3 fresh sage leaves
4 to 5 sprigs fresh thyme
3 to 4 dried bay leaves
1 16oz can diced tomatoes and juice
1 ½ cups red wine
3 cups low-sodium beef broth
¼ cup balsamic vinegar
1 oz dried porcini mushrooms, reconstituted per directions and broth (optional)
Directions
Cut brisket into sizeable pieces to ensure that it will fit into your crockpot. Season liberally with kosher salt and black pepper. Let rest for about 10 to 20 minutes.
Turn on crockpot to low and cover.
Heat olive oil in a large stockpot over medium-high heat. Lightly coat brisket pieces in flour, tapping to remove excess. Place brisket in pan and brown to form a golden crust all sides, about 5 to 7 minutes per side.
Remove from pan and set aside. Add vegetables, fresh herbs and bay leaves to hot oil and season with salt and pepper. Stir for a few minutes or until fragrant. You do not want to cook vegetables as they will be braising for a very long time. Add wine and stir to combine. Pour in tomatoes and juice, balsamic vinegar, and beef broth (and mushrooms and broth if using). Season liberally with salt and pepper again. Let cook until mixture begins to boil slight around the edges. Taste and adjust seasonings as desired.
Using a ladle or slotted spoon, scoop vegetables and spices into crock pot. Add the brisket pieces, then carefully pour the broth mixture over the top until full. Cover.
Let cook on low for 6 to 8 hours or until meat is lusciously tender. Remove bay leaves and stems of herbs. Enjoy!
Chef's Note: Although I didn't bother chopping herbs, you may want to run your knife through the rosemary as the leaves are a bigger.