I often ask people what their last meal would be before shuffling off this mortal coil. It is interesting to see what people want as the final tastes on their tongues. I've gotten everything from steak and lobster to sushi to chocolate cake and frosty, cold milk.
My answer varies from day-to-day, craving-to-craving. Right now, it would be a crunchy, golden brown plate of frites with sea salt and malt vinegar with a flame-broiled burger with cheese, bacon and roasted garlic aioli. Or maybe the salmon risotto dish I tasted at Emeril Lagasse's restaurant at Loew's Miami Beach years ago. The entrée always changes, but dessert never has. So when I'm 114 years old and on my deathbed, and my rich, exotic 80-year-old husband asks me want I want to eat, I'll breathlessly ask for…*drumroll* …a gooey, decadent, buttery cinnamon roll.
This breakfast/lunch/dinner/any-time-of-the-day food is one of my carved-in-stone favorites, although I eat and make them more in the winter. Paired with hot chocolate, it's the perfect cure for anything Jack Frost can dish out. Like The Winter of Unemployment and 100 Inches of Snow. Or the Post-Christmas credit card bill. Or cabin fever created by the blizzard that's raging outside right now.
It's also the perfect thing for Christmas morning. I know, I know, I hear the groans. You have to wrap the presents or go to this party or even do last minute shopping with your cousin who
always procrastinates
. But you can do this too because making these treats is not nearly as daunting as it seems, especially if you have the right recipe. After trying out a few different ones, this one is it!
There are just a few steps to making cinnamon rolls, but they're simple and fun!
Knead 'N Rise
Dough has been kneaded and is ready to rise.
Roll 'N Fill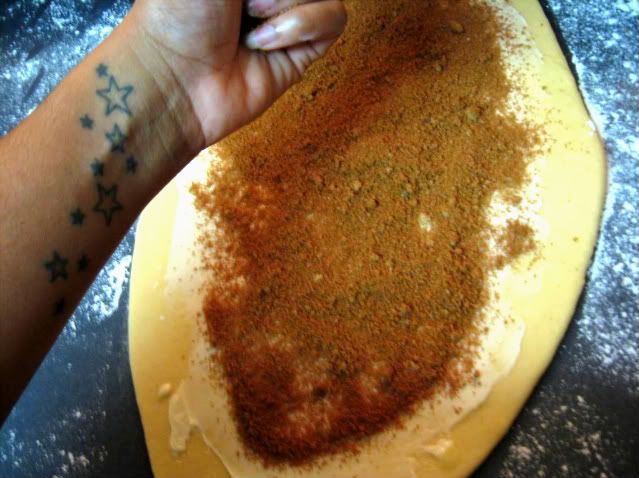 After rising, dough has been punched down; rolled flat; and filled with butter, brown sugar and cinnamon.
Rolling is easy and fun. Any sugar that falls out, just add to empty spaces in the baking pan.
Proof 'N Bake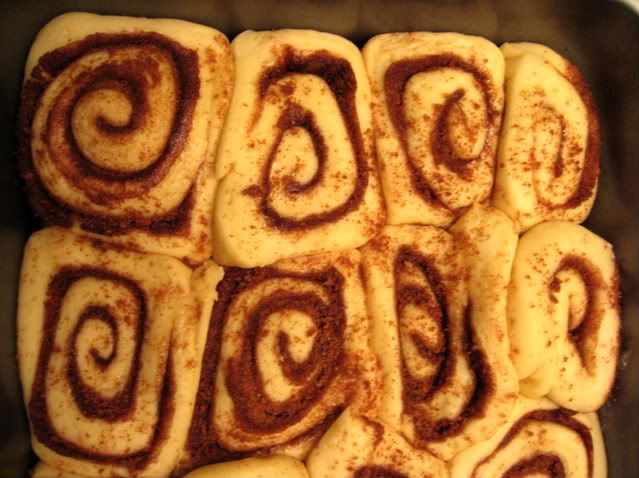 Rolls have proofed and ready to to bake! Aww, they're cute, aren't they?
Glaze 'N Enjoy!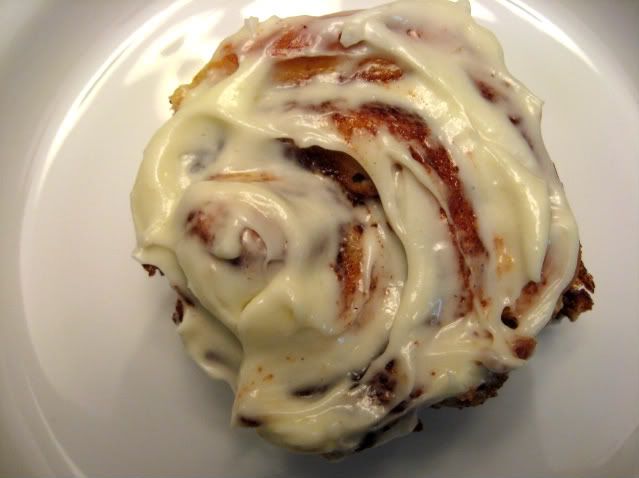 Ready to be eaten. The fruits of your labor!
(If you have to ask, then yes, these are technical names for the steps.)
You probably already have nearly all of the ingredients, except yeast. You get a gold star if you have the yeast.
Bake these little treats the day before, seal them up in an airtight container, and re-heat them in the morning, and it's the perfect culinary present for your friends and family.
And you know how the scent of Cinnabuns lures people to the food court at the mall in a haze of need and joy? That happens when you bake these, too. You're welcome.
Oh, and don't forget to leave one for Santa. It'll be a nice break from all of the cookies!
Cinnamon Rolls with Cream Cheese Glaze
epicurious.com
Dough:
1 cup whole milk
3 tablespoons unsalted butter
3 1/2 cups (or more) unbleached all purpose flour, divided
1/2 cup sugar
1 large egg
2 1/4 teaspoons rapid-rise yeast (from 2 envelopes yeast)
1 teaspoon salt
Nonstick vegetable oil spray
Filling:
3/4 cup (packed) golden brown sugar
2 tablespoons ground cinnamon
1/4 cup (1/2 stick) unsalted butter, room temperature
Glaze:
3 ounces cream cheese, room temperature
1 cup powdered sugar
1/4 cup (1/2 stick) unsalted butter, room temperature
1/2 teaspoon vanilla extract
Directions
For dough:
Combine milk and butter in glass measuring cup. Microwave on high until butter melts and mixture is just warmed to 120°F to 130°F, 30 to 45 seconds. Pour into bowl of stand mixer fitted with paddle attachment. Add 1 cup flour, sugar, egg, yeast, and salt. Beat on low speed 3 minutes, stopping occasionally to scrape down sides of bowl. Add 21/2 cups flour. Beat on low until flour is absorbed and dough is sticky, scraping down sides of bowl. If dough is very sticky, add more flour by tablespoonfuls until dough begins to form ball and pulls away from sides of bowl. Turn dough out onto lightly floured work surface. Knead until smooth and elastic, adding more flour if sticky, about 5 to 8 minutes. Form into ball.
Lightly oil large bowl with nonstick spray. Transfer dough to bowl, turning to coat. Cover bowl with plastic wrap, then kitchen towel. Let dough rise in warm draft-free area until doubled in volume, about 2 hours.
For filling:
Mix brown sugar and cinnamon in medium bowl.
Punch down dough. Transfer to floured work surface. Roll out to 15x11-inch rectangle. Spread butter over dough, leaving 1/2-inch border. Sprinkle cinnamon sugar evenly over butter. Starting at 1 long side, roll dough into log, pinching gently to keep it rolled up. With seam side down, cut dough crosswise with thin sharp knife into 18 equal slices (each about 1/2 to 3/4 inch wide).
Spray two 9-inch square glass baking dishes with nonstick spray. Divide rolls between baking dishes, arranging cut side up (there will be almost no space between rolls). Cover baking dishes with plastic wrap, then kitchen towel. Let dough rise in warm draft-free area until almost doubled in volume, 40 to 45 minutes.
Position rack in center of oven and preheat to 375°F. Bake rolls until tops are golden, about 20 minutes. Remove from oven and invert immediately onto rack. Cool 10 minutes. Turn rolls right side up.
For glaze:
Combine cream cheese, powdered sugar, butter, and vanilla in medium bowl. Using electric mixer, beat until smooth. Spread glaze on rolls when they are warm. Serve warm or at room temperature. Store leftovers in an airtight container and re-heat before serving.
Chef's Note: I do recommend trimming the edges of the dough so you have straight lines before filling. I did not when I made them for photos, and got some oddly shaped, cinnamony knobs after baking. Delicious but a little weird.
Chef's Note 2: I didn't have the right size glass pans as I made these for Thanksgiving morning, so I used a regular 9x13 baking pan without a problem. The rolls fit and the misshapen pieces went into a smaller pan.