Sometimes, I understand how silly foodies can be. I feel it when I'm running around the kitchen, photographing chopped blueberries in natural light and artfully arranging plates of food when everyone else just wants to eat it. Maybe it's a romantic and slightly naïve sentiment, but I truly believe in the power of good food—that it can nourish the soul as well as the body.
There's one food that I think has the power to heal the world. Two words, say it with me,
Chocolate Ganache.
It's a painfully simple mixture of chocolate and cream, yet I'm pretty sure it has supernatural powers. It could end the war, keep Charlie Sheen sober, make M. Night Shyamalan movies good again!
It already demonstrated its powers just this Thanksgiving. I was making a Chocolate Torte for the feast's dessert. It baked perfectly, yet when I tried to remove it from the pan, it wasn't coming out. After twenty tense, nail-biting minutes of scraping and running over the burner, and getting my mom to help, my sister had to bang and pry it out of the pan because I was too scared to do it. It was mostly whole and still completely delicious, but it was rough around the edges. It wasn't perfect, and I was upset. Because it was THANKSGIVING and IT NEEDED TO BE PERFECT! (Of course, the meal was anything but perfect, as most holiday meals are, but the food was excellent, and no one else cared that due to minor problems and setbacks, we didn't eat until almost eight. Dinner was scheduled for six.)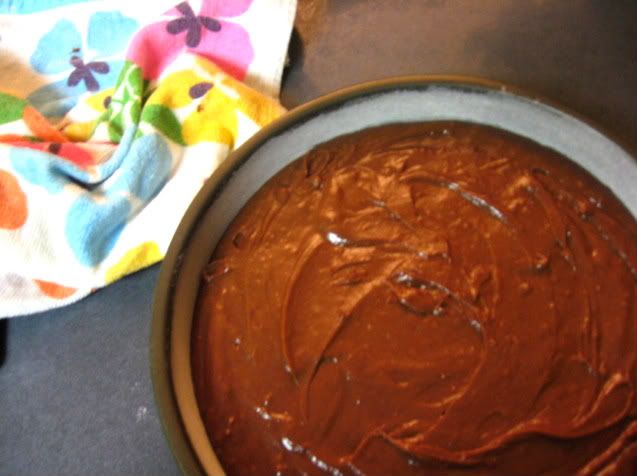 Enter the ganache. I poured it over the cake and it covered the tears and small divots, and kept me from having to resort to cake surgery and the consequent "it looks weird, but it tastes GREAT!" dance for my family.
It was a Thanksgiving Miracle!! And the power of ganache!
Ultimately, the dessert came together winningly, the torte was dense and sweet; the ganache was velvety and robustly chocolate; the pistachios added some crunch and luxury to an already elegant dish.
So you work on making this torte and believing in the power of food. And I'll go feed some of this to M. Night Shyamalan, and see if we can get another miracle.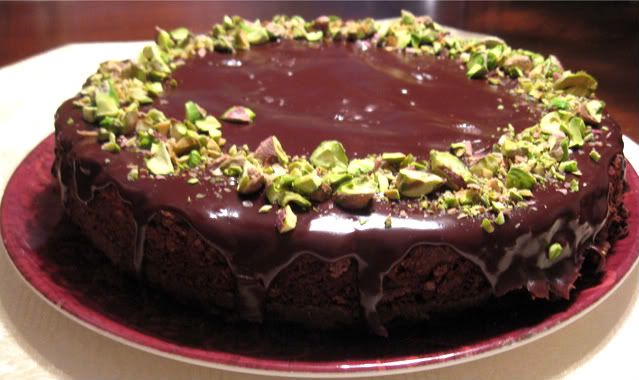 Torte
1/2 cup (1 stick) unsalted butter, cut into small pieces, plus more for pan
1 cup all-purpose flour (spooned and leveled), plus more for pan
1/2 teaspoon salt
1/4 teaspoon baking powder
8 ounces semisweet chocolate chips
1 1/4 cups sugar
1 teaspoon pure vanilla extract
2 large eggs
1/2 cup low-fat buttermilk
Ganache
1/2 cup heavy cream
4 ounces semisweet chocolate chips
1/4 cup shelled, unsalted pistachios, coarsely chopped
Directions
Make cake:
Preheat oven to 350 degrees. Butter and flour an 8-inch round cake pan; line bottom with parchment or waxed paper. In a medium bowl, whisk together flour, salt, and baking powder. Set aside.
In a large heatproof bowl set over a saucepan of simmering water, melt butter and chocolate, stirring frequently, 4 to 5 minutes Make sure the water does in the saucepan does not touch the bowl. Remove bowl from pan. Whisk in sugar and vanilla, then eggs, and buttermilk. Fold in flour mixture just until combined.
NOTE: The chocolate wasn't too hot after melting, but tempered in the eggs by whipping them slightly with the buttermilk adding a bit of the chocolate before adding that mixture to the chocolate. I didn't want to take the chance of the eggs cooking when added to the warm chocolate. Also, you want to make sure the buttermilk is at room temperature or close to it.
Pour batter into prepared pan. Bake until a toothpick inserted in center comes out with a few moist crumbs attached, 55 to 70 minutes, depending on your oven. Let cool in pan 5 minutes; run a knife around edge, and invert onto a wire rack. Remove paper, and let cool completely, about 3 hours. (To store, wrap in plastic, and keep at room temperature, up to 3 days).
Make ganache:
In a small saucepan, bring cream to a simmer, stirring often. Remove from heat. Add chocolate, and let stand 5 minutes; whisk until smooth. Let cool until mixture falls back in ribbons when lifted with a spoon. It shouldn't take more than 5 to 10 minutes.
Set cake on a serving platter; tuck strips of parchment paper under edge of cake to prevent ganache from dripping on platter. Pour ganache onto center of cake; using a table knife, spread evenly over the top and let it drip down the sides. Let set, about 30 minutes. Remove paper from under cake; sprinkle top with pistachios.
Chef's Note: Make sure you remove the torte from the pan 5 to 10 minutes after baking. I didn't, and you know what happened. ;-)