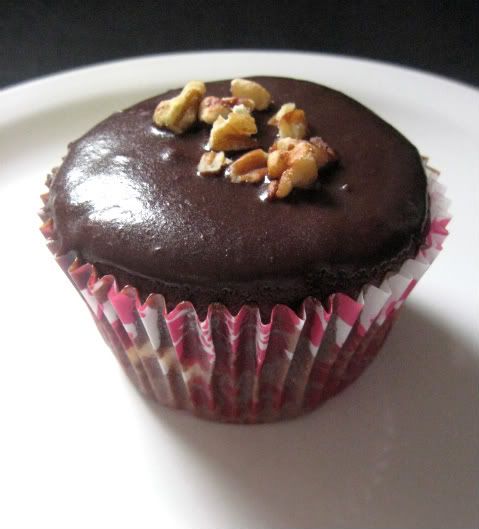 I have already spoken about the
Power of Ganche
, how I believe it has the ability to heal many things. Life, especially in these charged times, can be hard. It's hard dealing with things like prolonged unemployment and all of the frustration that comes with it. I have been without a paying job for more months than I can share without shame, and some days—usually the ones when I know a job I was cautiously excited about is filled—are especially maddening.
Early one morning, I stumbled across a peppy, can-do woman hosting a Food Network show called "Chic and Easy." She whipped up these cupcakes in a flourish of movement and optimism.
At a more reasonable hour, I did the same, needing to accomplish something that day. The result was one of the best desserts I've ever had. They were rich and decadent and not overly sweet. I don't like messing with sticky frosting, because I manage to get it everywhere, but coating these fudgy gems was a mess-less breeze.
So when life is bearing down a little too hard, try out these Chocolate Cheesecake Cupcakes and let the ganache do its job.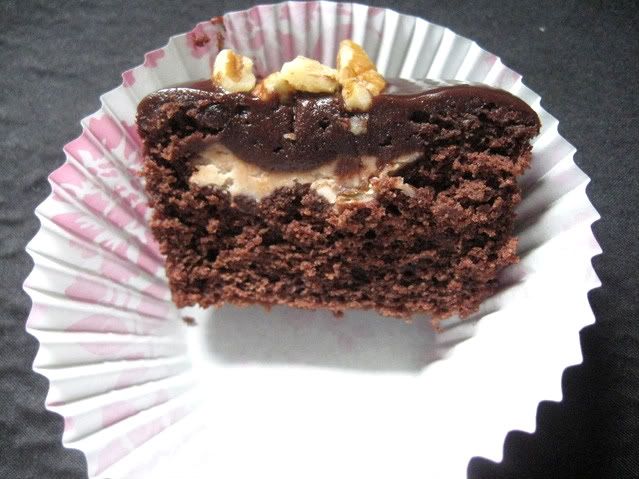 Chocolate Cheesecake Cupcakes with Ganache Frosting
by Mary Nolan
Ingredients
1 cup all-purpose flour
1/2 cup unsweetened cocoa powder
1 teaspoon baking powder
1/2 teaspoon salt 6 tablespoons butter, softened
3/4 cup sugar, plus 2 tablespoons
1 egg, at room temperature
2/3 cup milk, at room temperature
4 ounces cream cheese, softened
2 teaspoons vanilla extract
2 tablespoons mini semisweet chocolate chips
2 tablespoons chopped pecans
Ganache frosting, recipe follows
Directions
Place rack in the middle of oven and preheat to 350 degrees F.
Line 12 muffin cups with cupcake papers.
In a medium bowl, sift together the flour, cocoa powder, baking powder, and salt, and set aside. Using a mixer, cream the butter and 3/4 cup sugar until pale yellow, about 1 minute. Add the egg and stir until just combined. Gently add half of the flour mixture and stir until just incorporated. Mix in the milk. Add the remaining flour mixture and stir until combined. Set aside.
In a small bowl, mix together the cream cheese, 2 tablespoons sugar, and vanilla.
Stir in the chocolate chips and pecans.
Fill prepared cupcake liners with enough chocolate batter to just cover the bottom. Add a dollop of the cream cheese filling to each (about a tablespoon), then top with remaining batter. Filling cream cheese filling should not be visible.
Bake for 20 minutes. Let cupcakes stand in the pan for 3 minutes and then remove and allow to cool completely on a rack.
Dip each cupcake into the ganache, forming an even layer of frosting. Top with chopped pecans if you wish. Place in the refrigerator to set, about 15 minutes.
Ganache Frosting:
3/4 cup semisweet chocolate chips
1/2 cup heavy cream
1/2 teaspoon instant espresso powder, optional
Place a heat-proof bowl over a pot of simmering water, and whisk together the chocolate, cream, and espresso powder (if using). Continue whisking until chocolate is melted and the mixture is thick, about 4 minutes. Remove from heat and let stand for 5 minutes.