I love pasta almost as much as I love potatoes. Growing up, I was a long distance-runner, and that nurtured my love of all things carbs. If I were to go to culinary school, I would definitely move to Italy and learn how to make pasta with the little Italian grandmothers. In fact, I'm buying a hand-crank pasta maker with my birthday money and I already make my own ravioli. That recipe will come later.
This dish is a wonderful, easy but luxurious treat for the middle of the week. I usually have the ingredients on-hand and it comes together fairly quickly. If shrimp isn't on sale, chicken is a delicious substitute.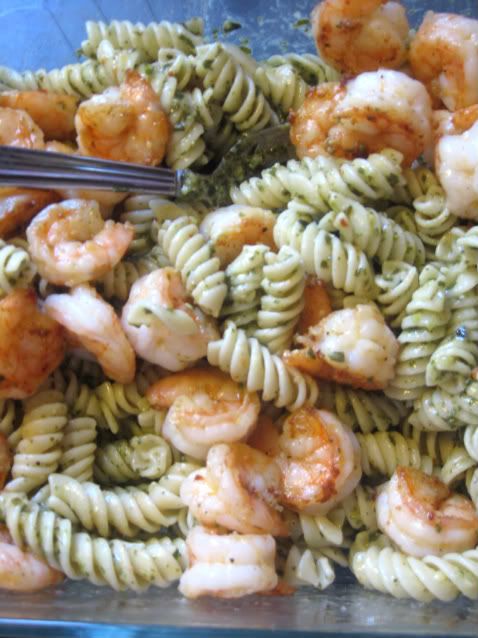 Ingredients
1 lb. raw shrimp, peeled (u31-40)
Olive Oil
8 oz. Penne Rigate or Rotini,
4 oz. Basil Pesto (preferably Buitoni)
Grated parmesan cheese
Salt, pepper, butter
While pasta water is coming to a boil, peel and thoroughly rinse shrimp. Place in bowl. Cover shrimp with a few healthy drizzles of olive oil to coat, no more than 2 tablespoons.
Season with your favorite standards. Stir. Set aside for about five minutes while preparing pasta per instructions.
In a large, hot skillet over medium-high heat, add shrimp and some of oil and juices, but not all. Cook in single layer for 2 to 3 minutes per side. Shrimp should be golden brown. Do not crowd pan. Cook in batches if necessary. Set aside.
Pour hot, drained pasta into large serving dish. Season conservatively with salt, pepper and a pat of butter. Add shrimp and pesto, adding more if desired. Sprinkle in a few hearty spoonfuls of parmesan cheese.
Enjoy immediately.
Note: I have tried this recipe with all different sizes of shrimp, but the 31-40s work the best. They are bite-sized and there are enough so that you don't have to cut them in half or no one goes digging through the pasta for them.